A storm system responsible for a multi-day severe weather outbreak across the southern tier of the nation will begin to impact our area later this morning. The Storm Prediction Center has maintained a slight risk for severe thunderstorm development through early this evening for portions of our region. Additionally, portions of inland southeast GA remain within a slight risk for excessive (flooding) rainfall from this storm system through tonight.
Our daily weather briefing has been enhanced to highlight these potential weather impacts.
Today
A squall line of strong to severe thunderstorms that are advancing eastward across the FL panhandle and southeastern portions of Alabama will approach our inland southeast GA counties and northern portions of the Suwannee Valley before noon. Showers will increase in coverage ahead of this approaching squall line, but we expect the threat for damaging wind gusts, hail, and isolated tornadoes to increase late this morning for these locations. We expect that this squall line will traverse the rest of inland southeast GA and the Interstate 10 corridor / Suwannee Valley during the early to mid-afternoon hours. We also expect scattered strong and isolated severe thunderstorms to develop during the early to mid-afternoon hours for locations along or just west of I-95 along the Atlantic sea breeze boundary. Storms today will generally move east-northeastward at a fast clip, mostly in the 30-40 mph range.
Tonight & Thursday
The severe weather threat for our area should diminish towards sunset as the aforementioned squall line moves offshore along with storms that develop along the Atlantic sea breeze boundary. However, this storm system's frontal boundary will stall over our region overnight, resulting in waves of heavy downpours and potentially a few strong thunderstorms streaming northeastward from the Gulf of Mexico overnight through Thursday.
Heavy downpours may begin to train over portions of our area later tonight and Thursday, increasing the threat for localized flooding, particularly at urban and normally flood-prone locations. A majority of this heavy rainfall threat will shift southeastward of a line from Live Oak to Waycross by Thursday afternoon. Widespread 1-2 inch rainfall totals are expected during this event, with locally higher totals possible where downpours repeatedly train over the same locations. Showers will finally exit east and southeast of our area on Thursday evening.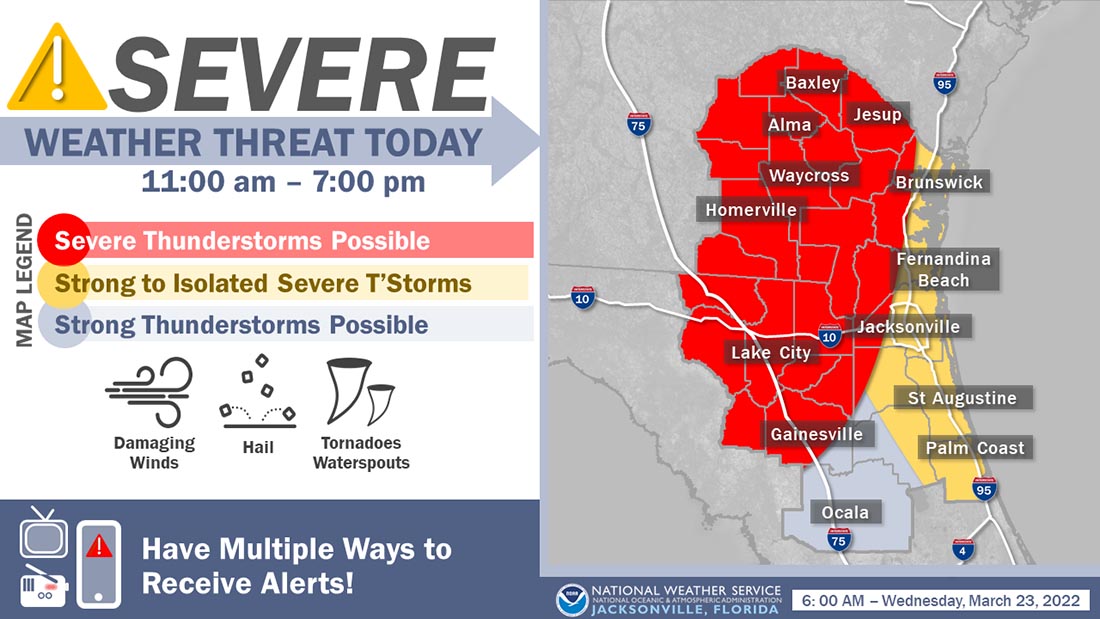 POSTED: 03-23-22 | 10:30 hrs