Gusty Straight Line Winds, Large Hail, Torrential Rain, and Isolated Tornadoes Possible…
Synopsis & Timing
Increasing moisture will stream into region ahead of a potent system heading toward Southeast Georgia and Northeast Florida. This moisture combined with a couple disturbances will track across the region ahead of an approaching cold front to create strong to severe thunderstorms Saturday night and Sunday. Initially showers with isolated thunderstorms will develop over the Suwannee Valley and interior Southeast Georgia Saturday afternoon. Thunderstorms will initially develop over the Gulf of Mexico Saturday morning and spread slowly eastward Saturday night and Sunday, increasing in coverage. Strong to severe storms may impact our region Saturday night, and Sunday with likely two to three rounds of these strong to severe thunderstorms.
Thunderstorm Hazards
The main hazards from thunderstorms late Saturday night and Sunday will be down-burst wind gusts of 50-75 mph, excessive lightning strikes, and feasibly large hail. In addition, torrential downpours and isolated tornadoes will be possible. The atmosphere will be favorable with speed and directional shear. This is where winds increase markedly in speed with height and change direction abruptly in the lower levels of the atmosphere. These atmospheric conditions may allow some storms to exhibit rotation, where some storms may produce tornadoes or dangerous straight line winds.
Marine hazards
Small craft advisory conditions will likely develop this weekend as a strong cold front moves across the waters Sunday evening. Strong thunderstorms will be possible on Sunday over the adjacent Atlantic waters. There may wind gusts to gale force (equal to or exceeding 34 knots) for the offshore waters late Saturday night through Monday evening. Wave heights over the offshore waters will increase 7 to 9 feet from Sunday morning into early Tuesday morning.
Please call us directly with any specific questions and/or concerns for your local area. We will follow-up with additional emails pertaining to this severe potential over the next 48 hours. If confidence continues to grow, we will conduct a conference call and Go to Webinar for our emergency management partners early Friday afternoon and/or late Saturday morning.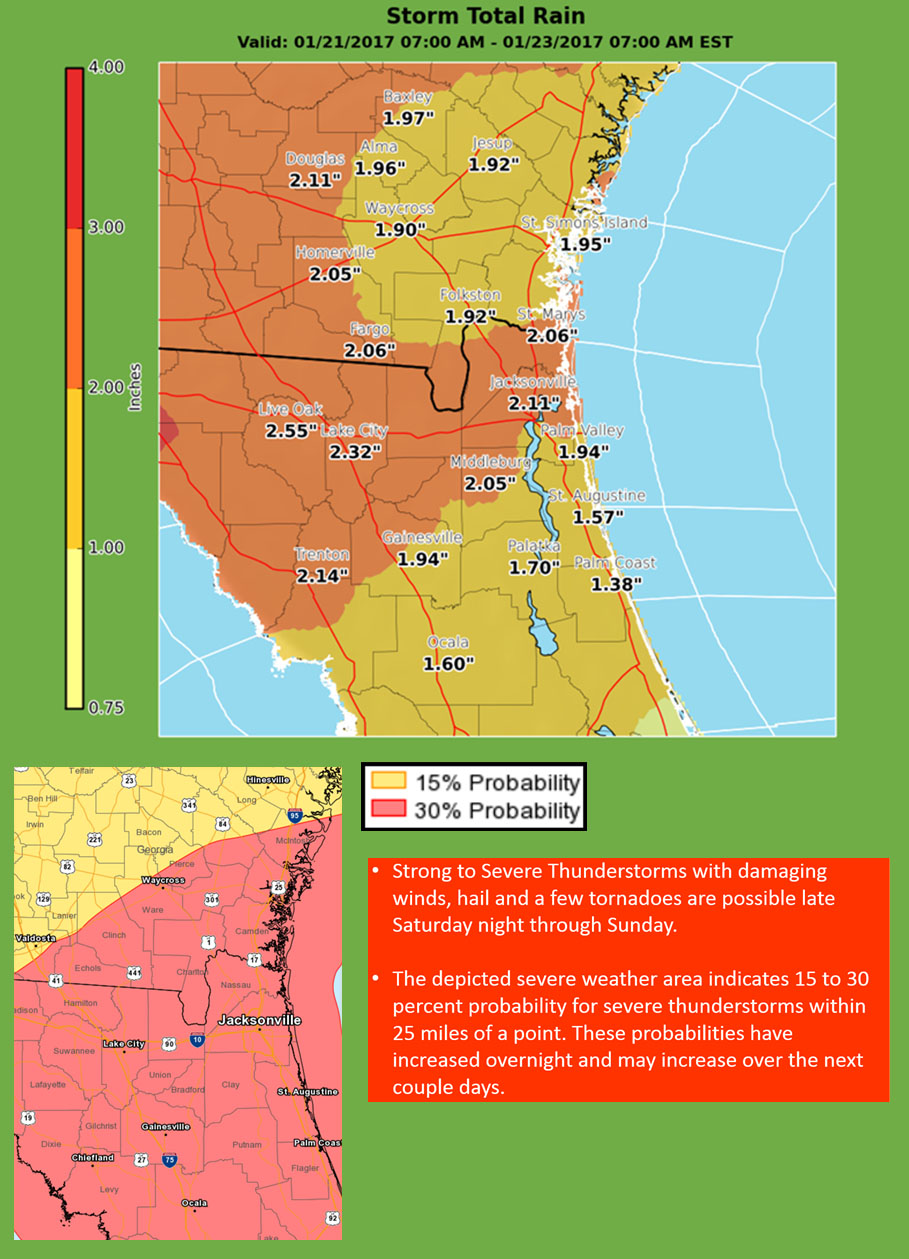 POSTED: 01-19-17 | 14:00 hrs