Synopsis & Timing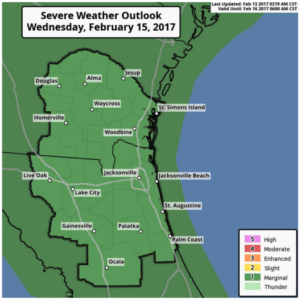 On Wednesday, a low pressure area will develop over the FL panhandle will track across south GA. Windy conditions will develop with southwesterly winds prevailing at 15 to 25 mph with gusts in the 30-40 mph range ahead of a potential pre-frontal squall line where a wind advisory may be required. Also, Small Craft Advisory conditions will develop Wednesday into Thursday as a Gulf low moves by just north of the area pushing a cold front across the area. Over the adjacent Atlantic, marine conditions will improve Thursday night and Friday.
Temperatures on Wednesday will surge once again well into the 70s will support a broken line of showers and thunderstorms. This broken line of showers & storms may have few embedded strong to marginally severe thunderstorms. This line is expected to push into across SE GA and Suwannee Valley very late Wednesday morning or early afternoon. The aforementioned line will then push further south & east through the rest of the region Wed afternoon and early evening. As a result, the Storm Prediction Center has put our region into a marginal thunderstorm outlook on Wednesday.
Some storms may be capable of producing strong wind gusts of 40-60 mph.
The best chance of strong to marginally severe storms will reside mainly along and north of I-10 into SE GA Wednesday afternoon with best lift associated with the system placed north of the Altamaha River Basin.
There remains some uncertainty at this time, due to the question of the amount of instability that will present over the region.
At this time instability looks limited with just a few strong to severe thunderstorms possible.
We will closely monitor atmospheric conditions to see if there is more moisture and instability to support a more substantial event.
POSTED:
02-14-17 | 14:00 hrs